Caring for an elderly parent or loved one can become emotionally, mentally and physically draining. If the right resources are not accessed, caring for a senior citizen can also be expensive. However, there is help. Adult children, extended family members and other caregivers do not have to go it alone.
Senior Home Care Services
Local and national home care agencies will send therapists and other trained healthcare professionals into an elderly family member's home. Services offered through home care agencies include:
Hygiene support (e.g. bathing, dressing)
Medicine administration
Wound cleaning and dressing
Physical therapy
Errand running (e.g. grocery shopping)
Light housecleaning
Meal preparation
Recreation
Beyond the above services that senior home care agencies provide, companionship is another key benefit that senior citizens receive from agency professionals. It is not uncommon for at home caretakers to become trusted and valued friends of their clients.
Getting Professional Senior Home Care Support
Senior home care agency administrators, volunteers and staff members realize that adult children have a myriad of responsibilities (e.g. raising their own children, work) that can prevent them from physically being with their aging parents as often as they would like. Because of this some local and national senior home care agencies will provide support after an adult child places a telephone call with them. Support can begin within 48 hours or less of the telephone call.
Volunteers and professionals who work with agencies range from:
Registered nurses (RNs)
Licensed practical nurses (LPNs)
Physical therapists
Psychologists
Dieticians
Alzheimer care training is provided through many national senior home care agencies. Seniors who live at assisted living facilities can also receive the healthcare services at home. Costs for the care is generally less than the cost of placing an elderly loved one in a nursing home.
Background checks and criminal investigations can be conducted by the agency on professionals before they are permitted to provide care to a senior citizen in their home. Family members who are considering engaging a senior home care agency to provide additional support for an aging relative are encouraged to ensure that the caregivers are insured and bonded at the minimum. They should also discuss billing, including invoice frequency and where and to whom bills for the care should be sent to.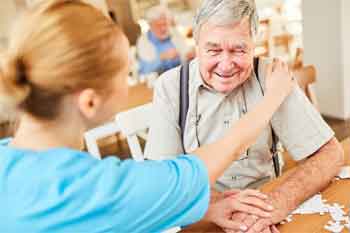 Senior Home Care Lengths
Home care is available on short and long term basis. For example, a loved one who recently underwent surgery and who would like to recuperate at home could receive senior home care services until they were completed healed and on their feet again. Care can also be provided to special needs children, injured young adults, etc.
Experienced senior home care professionals know how to remain calm during instances when the aging relative might be upset or confused. Their support allows aging adults to enjoy the comforts of the homes that they have spent years caring for and sharing special times with friends and family members in. The support also allows adult children, grandchildren and extended family members to feel "at home" each time that they visit with their elderly family member.
Senior home care professionals include nurses, therapists and volunteers. Care covers a broad range of areas including hygiene, housekeeping, errand running and companionship. Family members are encouraged to ensure that the home care professional who enters their aging relative's home is at least bonded and insured. They should also communicate to the agency where invoices for the care should be sent.