Do you have a concrete floor in your office or home? I am sure that it would be of concrete because a concrete floor is the only solution regarding long-lasting and durability.
Have you ever thought why concrete preferred building construction rather than other construction materials? Because this is easy and durable to make your life journey smooth?
With time your floor encountered flexing, twisting, and bumps. These bumps and twists give a tidy look to your floor; you always found it resistive while you walk.
Floors with bumps not only give a tidy look but also create problems while you want to add decorative material or install tiles on the floor.
No need to worry a self-leveling concrete will resolve all your issues with great ease. Stay with us here we will provide you with a solution about how does self-leveling concrete works.
Self-leveling Concrete Work:
There are two most important types of leveling tiles on your floor; one of them requires tooling while the other one is self-leveling where you do not require tooling.
Once you have decided to go with self-leveling, ensure that you have the best self-leveling compound with you.
Your self-leveling compound can be of thickness ranges from 0.4 to 4 inches, and you can complete their installation job by hand or with a simple mixing pump.
We found that almost all the places such as schools, food outlets, supermarkets, and homeowners love to use self-leveling concrete with their floors. But you need to avoid in such an area where heavy industrial activities are done such as dragging of steel material.
When you are going to start your work, then make sure that you have repaired all the heavily damaged areas and cracks on the floor, and the floor should be dry.
After that, mix up the material and pour it on the floor but make it sure that your product must be slurry. If you have cleared everything on the floor you need to pour it gently with a smooth brush; your concrete will dry quickly.
Self-leveling compounds are available in two types; the first one is acrylic-based while the second one is a water-based leveling compound.
Acrylic-based Self-leveling Compound:
When you mix cement with an acrylic liquid polymer, your acrylic self-leveling compound is ready. This will provide you with better resistance to abrasion and elasticity to the floor surface.
You need more labour for this because it takes too much time to dry and the temperature has a great impact on this leveling-compound.
Its examples are Sikalevel-20-leveling compound, sikafloor level 30, and sikalevel 25 latex.
Water-based Leveling compound:
These are simple and easy to mix up with water; these leveling compounds take only 20 minutes to dry. Due to its flowy consistency, these leveling compounds give a smooth surface.
Its popular examples are level quickrs, Henry 555 level pro, and Akona Self-leveling compound.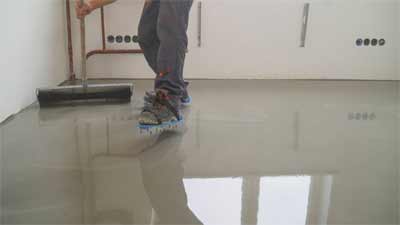 Benefits of the Self-leveling compounds:
• Self-leveling-compounds require minimum labor.
• It is simple to install for that reason most of the homeowners use self-leveling compounds for the home projects.
• You do not need much amount of water for the placement of the compound because it contains a polymer modified-cement.
• Highly recommended by experts and architects for floor repairing and leveling.
• It is safe to use; you do not need to worry about any allergic reactions to you and your workers.
Final Words:
You have gone through our article about how self-leveling concrete work. After reading our article, you become able to understand the self-leveling compound and their working very well.
We hope now you will try this for leveling your own office and home floor. You can use a water-based or acrylic-based compound, but we recommend you water-based compound. Please continue reading at this site to know more details.