Nowadays, face masks are everywhere and they are a very important one to keep on here. There are hundreds of seminars in online that you almost certainly have knowledge of wearing masks. And there is one thing about this face mask is, you can choose what you like to wear and what is most convenient for you. You can make masks with your requirements easily.
Everyone wearing a mask is needed one, they all buy it in shops. But they do not know the bought mask has good quality or not. Some people do not have knowledge about buying the best mask to protect you. Wearing masks is not to show off or something else, it's for security purposes to protect from virus attack. So that we are in need to wear face masks, it's not only for our protection. It's the safest way to protect others too. If you are not getting knowledge about making masks you can get more knowledge online. You can make face masks by using all the quality materials. You can get instructions to follow while making face masks from online tutorials. Now, many people shared their ideas to make masks. It's really a fast way of making masks.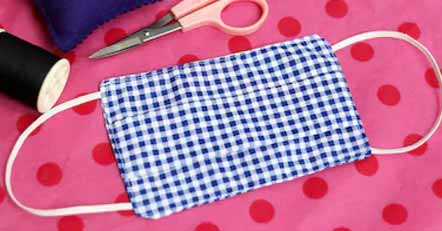 Simple way to Making Masks
Cut the material as two squares of 8 by 8 inches.
Iron the material of one inch at the bottom side and three pleats on both fabric pieces.
You have to position the straps in the corners.
Then make a sandwich and pin together, securing the straps and pleats.
Sew down the three sides of the material and leave the bottom open.
You have to cut the threads and edges or trim with pinking shears.
Finally, turn inside out.
Wearing a Homemade Masks
Mark the pleats(make it three), Iron the three pleats, Use one inch wide strips of the material which you want to use. Now, all we have noticed that the interest of wearing transparent eye shield with face mask. It's increasing with all of us. This is more effective and it can't do any harm. You can make it some tests and also came up with this. One more thing is to make it with an easy solution to attach an eye shield to your face mask while making it yourself. For that, you need some transparent plastic and you need hook, loop tape.
If you know to use the sewing machine you can also sew the plastic shield at the top of your mask. You cannot use a washing machine to wash the face masks with the transparent plastic, it's not a good idea. Better you can use a removable eye shield so that you can wash it with soap or detergent. It's so easy to wash and you can keep it clean. There is no need to add bias tape to all the edges of the plastic shield because you will be like the invisible version after using this.