Are you worried about your health? Do you feel like you're not getting the proper vitamins and minerals from your diet? If so, don't worry-help has arrived.
While they can't replace a healthy and well-balanced diet, here are five dietary supplements no medicine cabinet should be without.
Multivitamins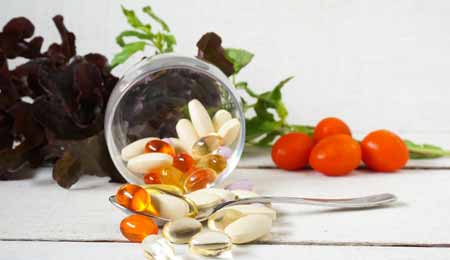 If you had to choose only one supplement to take every day, make it a multivitamin; it's the foundation of any decent health plan. Unless you spend your entire day eating a seemingly infinite assortment of food groups, you will never reach your overall nutritional needs. Multivitamins are designed to be a convenient supplement to your diet, adding only the vitamins and minerals most essential for good health–Vitamin C, Magnesium, Zinc, Lycopene, and so on. Most multivitamins only need to be taken once a day, can be found in any grocery store, and are relatively inexpensive.
Suggested use: Once daily with a full glass of water, preferably after a meal.
Omega -3 Fish Oil
Fish oil is a dietary supplement that is vital in building and maintaining heart health. It contains the essential fatty acids EPA and DHA; EPA supports heart health and cellular integrity while DHA supports the operation of memory and the nervous system. Fish oil has also been shown in studies to have a positive effect on weight loss. Fish oil is widely available and can be found in most grocery stores at a low price.
Suggested use: Varies; for adults, typically 2000 mg (2 softgels) per day with food. Should be stored in a cool, dry place; some brands suggest the bottle be refrigerated after opening.
Ginkgo Biloba
Ginkgo Biloba (commonly misspelled as Gingko Biloba) has been shown to help improve memory, especially mild memory loss associated with aging. It has been used as a treatment to delay the onset of Alzheimer's disease. It also helps promote blood circulation to the legs, arms and brain, and has been known to help treat diabetes patients suffering from poor blood circulation to the extremities (feet, hands). It is available in most any grocery store and is very inexpensive.
Suggested use: For adults, 120 mg daily with a meal.
Red Wine Extract (with Resveratrol)
Red wine extract provides the benefits of heart-healthy red wine without the hangover. Red wine contains Resveratrol, a powerful antioxidant which aids in the support of the cardiovascular system by strengthening capillaries and encouraging healthy blood flow to and from the heart. Red wine extract also contains polyphenols and anthocyanidins, antioxidants that assist in balancing the immune system. Red wine extract is relatively expensive and is available in a wide range of forms and sizes, including vegetarian tablets.
Suggested use: Varies by brand.
Green Tea Extract
Green tea is all the rage right now, and for good reason: it carries powerful antioxidants called polyphenols, such as EGCG, that can inhibit the growth of cancer cells and lower total cholesterol levels, among other things. Studies have shown that those who consume green tea on a regular basis are far less likely to suffer from heart disease, regardless of diet. Green tea may even be helpful in weight loss. It can be found in few grocery stores, but is available at larger retailers and vitamin stores at an extremely low cost.
Suggested use: Varies; typically 200-300 mg daily.
Having trouble finding one or more of these items at your local grocery store? Online vitamin stores such as https://www.otcmedstore.com/equazen-eye-q-baby-n30 have a wide variety of these supplements in stock.